What is DCC?
DCC (short for Dynamic Currency Conversion) is a feature that gives the end customers the option to pay in the currency of the payment card's country of issue at the point of sale. This will allow the customer to know exactly how much they will be charged.
How does DCC work and when is it offered to customers?
DCC appears during the checkout process upon entering the credit card details. If the currency in which the merchant sells its activities is different to the currency on the customer's credit card, then the option for DCC is displayed.
The Payyo system recognizes where the credit card was issued. If DCC can be offered, the customer is given two options during the checkout stage.
They can choose to pay with:
The currency from where the credit card is issued (processed by Payyo)
The customer's bank /credit card issuer performs the currency exchange.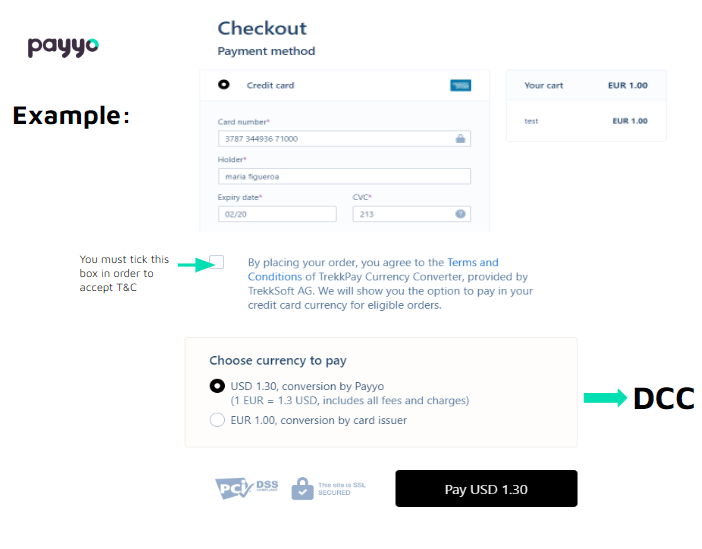 What are the benefits of DCC?
DCC can benefit your business and your customers:
Increase sales by offering local currency
Transparency: Allows your customers to know how much they will be charged
Increases conversion
Access to competitive exchange rates
Payyo will offer its own exchange rate that is based on mid-market rates and are updated hourly.
What are the costs of DCC for the customer?
The costs of DCC typically vary depending on the currency the customer wants to pay in and the currency the product or service is offered.
The more "exotic" the currency, the higher the DCC fees might be. Exchange rate markups usually vary between 2.6% to up to 11%. As DCC is optional, customers have the right to decline it when offered.
If the customer does decline the DCC at the point of sale, the currency conversion will be done by the customer's bank and their own rates will be applied.